While we may live far away from one another, aspiring to be different things and trying to achieve our very own goals, the one thing that we all have in common is our love for horses.
It doesn't matter if you are obsessed with horses and you own a whole barn full of them or if you just saw one on the street and you instantly fell in love with this majestic creature, the fact of the matter is that we all love horses here no matter the circumstance.
Luckily, Hollywood has seen this growing love for horses over the years, and as such they acted accordingly, creating hundreds if not thousands of amazing horse-related flicks that we can enjoy any time we want to.
So, in order to celebrate our collective love for the four-legged friends out there, let's just take our time and go through the 25 best horse movies that you totally have to watch, starting off with:
25. Dark Horse (1992)
Dark Horse is a perfect film to watch if you want to see just how important horses are for your mental health.
It follows the story of Allison Mills, a teenager that has to get through the traumatic event of losing her mother as she is sent to a local stable to do community service after getting in trouble acting out.
That's where she meets a horse named Jet who helps heal the wounds that she has inside, making her remember that life is worth living and that everything will be okay in the end.
24. All Pretty Horses (2000)
Based on a story by Cormack McCarthy, this film instantly became a modern-day classic as Matt Damon and Penelope Cruz do their best under the guise of Bob Thornton to bring these characters to life.
The story's plot revolves around a young man that grew up on a ranch, only to leave to Mexico after the untimely passing of his grandfather. He now needs to earn his keep around the Wild West, exploring the wilderness there and seeing what nature has in store for him.
23. Buck (2011)
This is a documentary about a man known as Buck Brannaman, commonly referred to as one of the best real-life horse whisperers around.
It is the story of how he manages to train horses through a combination of leadership and sensitivity training, trying his hardest to educate people on the fact that you don't need to punish your horse for them to listen to you.
22. Casey's Shadow (1978)
This flick is centered around a man named Lloyd Bourdelle, as he embarks on a journey to finally make a name for himself by winning a horse racing championship.
He manages to attract a band of misfits to back him up, and eventually he comes across a special horse that is going to make his dreams come true.
If you wish to watch a movie about people following their dreams and finally making a name for themselves after years of trials and tribulations, then this is the right flick for you.
21. The Derby Stallion (2005)
If you are a fan of Zac Efron and you would love to see him in a horse flick you may want to buckle up and get ready because the Derby Stallion is definitely right up your alley.
In this film he plays none other than Patrick McCardle, a baseball player that was always coached by his dad to become the best in the world.
The problem here though is that he doesn't actually care all that much about baseball, he only does it for his dad's sake.
So, after meeting a former jockey known as Houston Jones, he finally decides to follow his own dreams and passions, as he takes on the arduous job of taking care and riding horses for a living.
20. Secretariat (2010)
Disney is known for releasing some real bangers, and this epic drama is no exception. It is based on the true story of a 1973 Crown-winning racehorse known as Secretariat and his bout with his owner Penny Chenery, as they try to win yet another crown together.
It is just a wonderful movie to check out with your friends and family, and even if you're not exactly the biggest horse fan you can still enjoy your time watching this flick.
19. Dreamer (2005)
If you are on the lookout to watch a heartwarming family movie about horses you may want to look into Dreamer, since it is one of the best horse tales around.
It follows the story of a broken racehorse that comes back to take on the Breeder's Cup Classic. While it may be a bit on the cliché side, if you are looking for a feelgood type of a movie that will leave you giddy you can definitely count on Dreamer to get the job done.
18. Seabiscuit (2003)
The Great Depression took a toll on humanity as a whole, so it's no wonder that most of the movies that came out around this era tried their hardest to make people smile once again.
The morale was so low that everybody wanted to see the story of an underdog no matter the medium that this underdog was to compete in, and just like that we got our hands on Seabiscuit.
Back in 2003 when it came out, it was nominated for seven whole Academy Awards, earning back a staggering $143 million since.
It is a rather complex story that you need to constantly pay attention to in order to get the most out of it, but once you do get into the groove, you'll find yourself falling in love with the characters as you wish that they overcome their own perils in due time.
17. War Horse (2011)
War Horse is a perfect depiction of World War I through the eyes of a horse, which may sound goofy at first but trust us when we tell you that it does get quite wild and emotional.
Being a Steven Spielberg movie, you can already expect it to be pretty high quality, as back when it came out it was brought up as a part of the distinguished American Film Institute's top 10 best films of the year.
The movie follows the story of Joey, a bay Thoroughbred that is employed as a cavalry horse during World War I. He is set out to represent the British Army, and as the rest of the flick unfolds, things take a turn for the worst as Joey experiences firsthand what war is really like.
16. The Black Stallion (1979)
A bit of a classic over here, the Black Stallion follows the story of a young boy by the name of Alec, and of course, his trustworthy Arabian stallion companion.
The interesting concept behind this flick though is that the two end up being forced to cooperate with one another after they shipwreck on a deserted island.
This movie needs to other introduction as you already know that it is a top-grade flick since it was nominated for two Academy Awards, a Golden Globe and a British Academy Award all at once after its official release.
15. Hidalgo (2004)
If you are on the lookout for a western flick though you have got to check out Hidalgo because it is one of the best of its kind.
The movie is centered around Frank Hopkins' insane endurance horse race from 1891 when he took his Mustang Hidalgo as they surpassed their limits, eventually even being recognized by an Arab Sheik who was known as the champion up until then.
The following 3,000-mile race across the Arabian desert is anything but relaxing as Hidalgo gives it his all to take down his opposition and win first prize.
14. National Velvet (1944)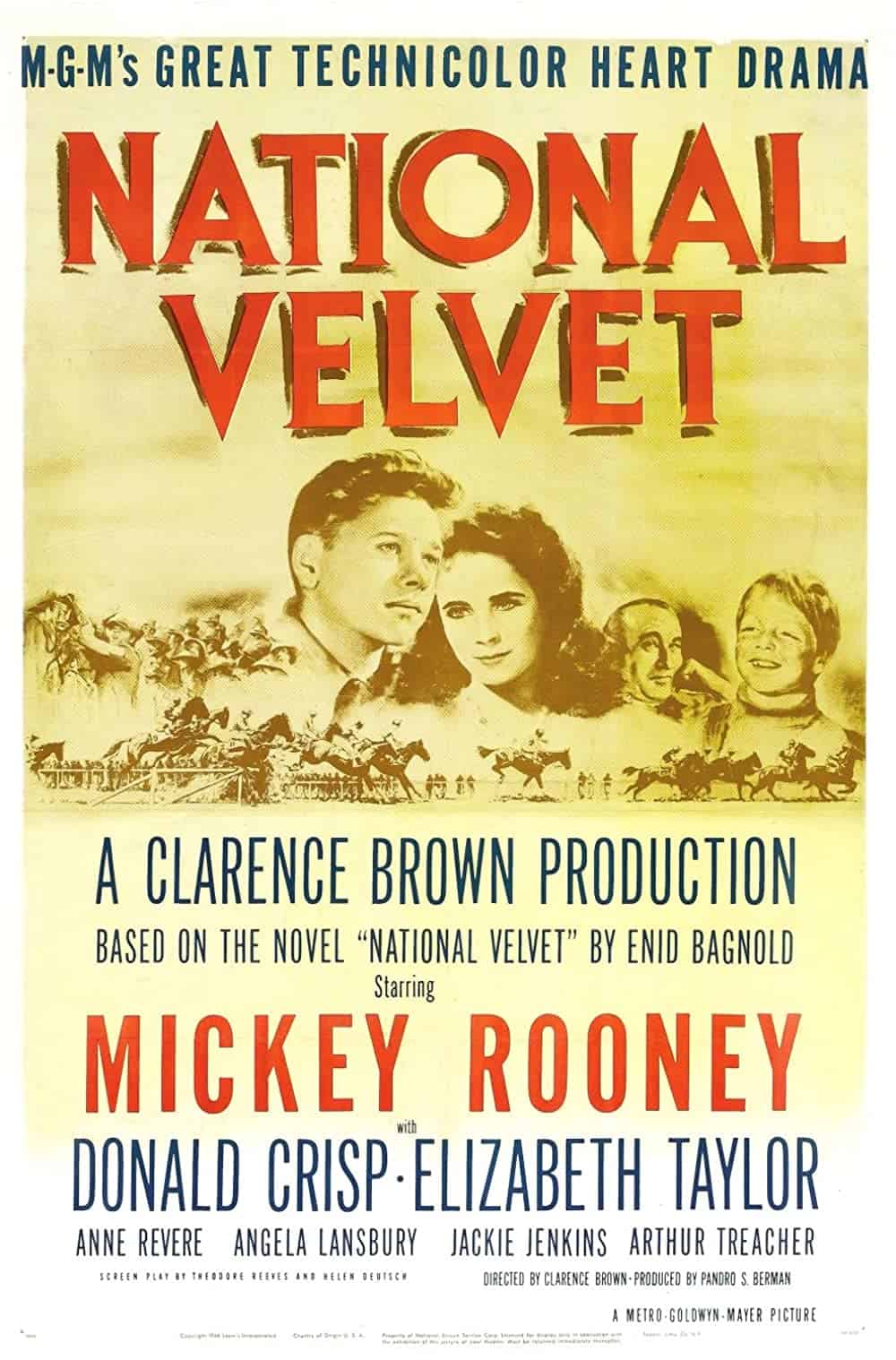 National Velvet is definitely a bit of an acquired taste of a movie, since it is one of those Old but Gold flicks that you see when you're young and then think about for the rest of your life.
But hey, leaving nostalgia aside, what is National Velvet even all about? Well, since it is based on a fictional novel, you can expect it to be a bit flashy and extraordinary in its approach, but this in itself only makes the experience better by dramatizing the fictional evens from the book.
So, the film follows the story of twelve-year-old Velvet Brown as she takes her horse, Pie, to the town raffle, hoping to make a name for themselves even though they are both newcomers in the field.
13. The Horse Whisperer (1998)
This film covers the story of a cowboy that helps mentor a young girl and her traumatized horse in order to get back up and try to win the race yet again.
It is a classic story about overcoming your problems and getting back up after you reach your lowest point, and it is a really good rendition of it too which was made all the more apparent by the fact that it grossed a total of $187 million worldwide.
12. Walk. Ride. Rodeo (2019)
But hey, not everybody's interested in an old classic flick such as the Horse Whisperer or the National Velvet. A lot of people just want to turn off their brains and watch the beautiful horses in stunning high-quality cinema.
If that sounds like your cup of tea you may want to look up this 2019 Netflix original as it is a classic story turned timeless, with the main character's life taking a turn for the worse after she gets paralyzed from the waist down after a horrifying car crash.
Her whole goal is to get back on the horse and ride her heart out. Will she succeed? Watch the flick to find out.
11. Flicka (2006)
If you loved the original from 1943 then you will surely love this 2006 reboot too as it retells the story of a broken teenager that wishes to defy her father and spend her days with a wild Mustang that she found herself.
Fearing for his daughter's safety, her father takes the horse away, but Katy is not going to stand for this, she will embark on a treacherous journey, risking her own life for the sake of bringing Flicka back home.
10. Ruffian (2007)
If crying's what you want on your menu, then crying is what you'll receive from this flick right here. This horse movie will pull at your heartstrings with all of its night as it showcases the true story of Ruffian, a Thoroughbred racehorse from the 70s.
Ruffian was undefeated at the time, but sadly she ended up falling during a highly anticipated match against Foolish Pleasure. Will she get back up on her feet after this tragic accident or will she just bow her head down? There is only one way to find out.
9. Moondance Alexander (2007)
Yet another amazing true story adaptation, Moondance Alexander is a perfect example of perfect casting, coupled with a director that had a vision for his movie that nobody else could see at the time.
The story comes off as a comedy at first, but as it's expected from Hollywood, it soon takes a turn for the worse as the young main protagonist of the flick ends up training alongside a random horse that she finds in the wild to become the best show jumper around.
8. The Young Black Stallion (2003)
Yet another incredible Disney flick, the Young Black Stallion gives us the story of a young girl and a rather mysterious black colt.
After a series of unfortunate events, Neera finds herself stuck in the Arabian desert where she has to fend off for herself. That's where her savior comes into play though, that savior being a black Arabian colt that manages to eventually bring her back to her grandfather's ranch.
She then sets off to save her grandpa's horse breeding business as she tries to prove to everyone that her grandfather's breeding is the best in the country by winning a cross-country race in his name.
7. Wild Hearts Can't Be Broken (1991)
Going back to the classics we have this unbelievable story which follows the tale of the young daredevil young women, that risk their lives performing incredible tasks with their diving horses.
This is yet another based on a true story type of a flick, as it is mostly centered around the first ever diving girl Sonora Webster Carver.
The story is definitely dramatized by quite a bit though, so keep that in mind as it is not a hundred percent based on accurate by no means.
6. Racing Stripes (2005)
Being sad is overrated though, so how about instead we tell you all about this hilarious family flick that is sure to have you howling with laughter.
The film is centered around a zebra known as Stripes that thinks he's a racehorse, and while everyone else doubts and mocks him for his passion, a teenage girl decides to give him a chance.
Together, can they take on the Thoroughbreds that have won so many championships so far? Watch the flick to find out.
5. All Roads Lead Home (2008)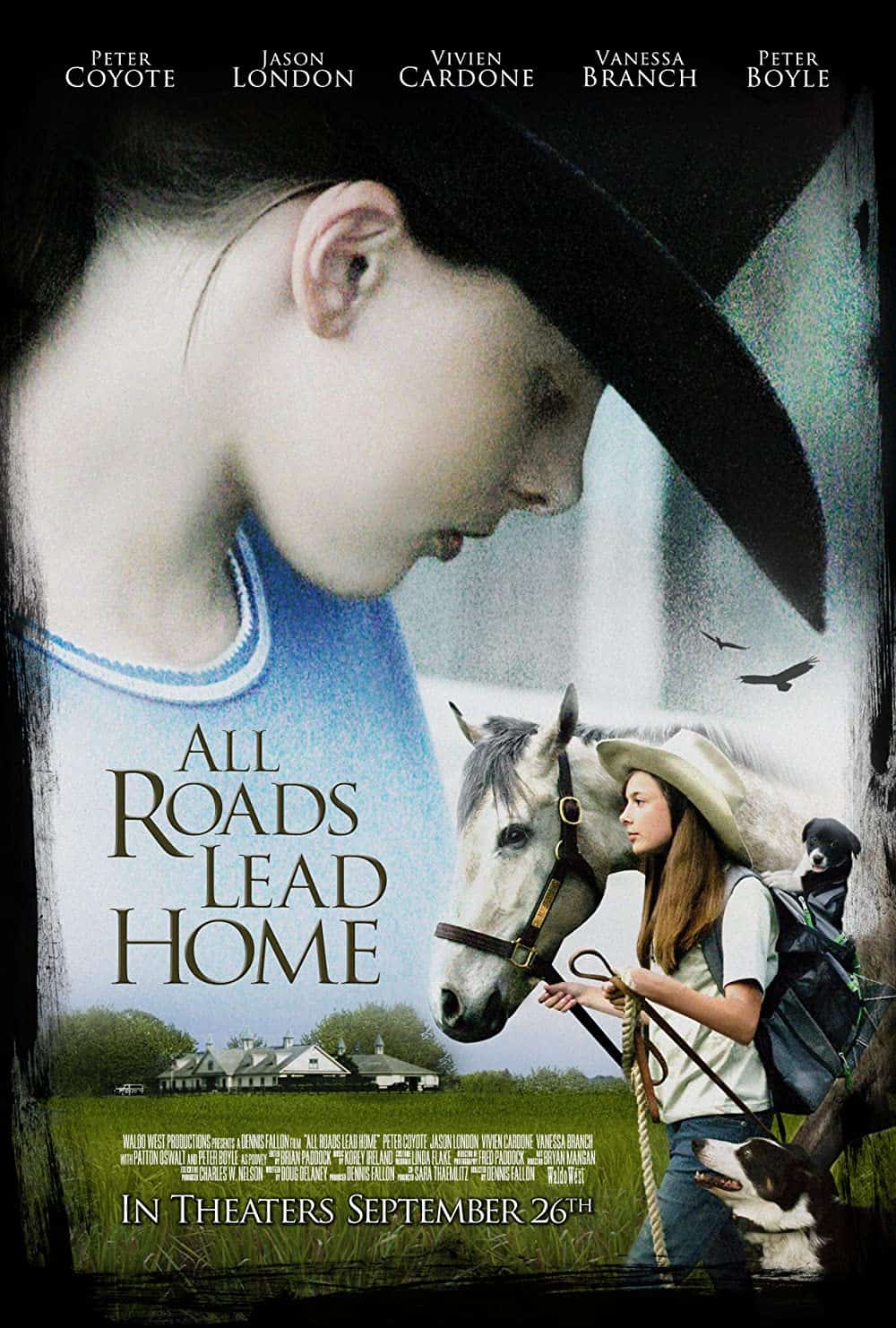 All Roads Lead Home is a drama like no other, following the story of 12-year-old Belle as she does her best to earn her keep at her grandfather's farm after she loses her mother in a tragic and sudden accident.
Not only that but the flick also follows a canine epidemic in the town as everyone is just trying their hardest to make ends meet. The story is packed full of relationship dramas, with a huge emphasis being placed on the family bonds that we all crave.
4. The Silver Brumby (1993)
The Silver Brumby is based on a book series that shares the same name, and while many have argued that it is pretty much just a word for word copy of Spirit: Stallion of the Cimarron, it is still a great watch if you want to get through a serious drama that also features some really intense and funny scenes.
The horse starring in this flick is a beautiful palomino known as Thowra, as this stallion is constantly hunted down by a cowboy. Will he manage to take down the wild beauty or will he be outsmarted the whole time by it? The answer is 1 hour and 33 minutes away.
3. Windstorm (2013)
This German adventure movie centers around a rather unique bond between a rebellious girl and her stunning black stallion.
Mika ends up with no home after her grandmother banishes her from her farm, but as soon as she goes out into the wild, she finds a beautiful black stallion that had been locked up in a dark stall for many years prior to her finding it.
She saves the horse thanks to the help from a stranger, and the two end up bonding as Mika ends up riding her black stallion everywhere, feeling free for the first time in their life.
2. Spirit: Stallion of the Cimarron (2002)
This animated classic almost topped our list as it perfectly encapsulates the American West in its short runtime.
The story is centered around a wild Mustang as he goes through a lot of troubles trying to keep himself free and wild from the clutches of a villainous sheriff.
Together with a Lakota Indian, Spirit will do his best to stay true to himself as he slowly yet surely discovers more about himself through this action-packed adventure.
1. Black Beauty (1994)
This is the classic story adapted from the 1877 novel with the same title, and believe it or not, the story is so timeless that it was actually captured in film six different times in total.
This 1994 Black Beauty film though is our personal favorite, as it follows the story of a beautiful black colt in 19th century England, as he embarks on a journey to live his best life and be free as a bird, despite everyone else wishing to encage him and use him for their own benefit.
Conclusion
Horse movies are definitely one of our personal favorite niche genres, and while not all of them are top tier choices, this list should help you find some amazing flicks for you to enjoy right now.
No matter which genre you prefer, be that drama or comedy or maybe a bit of both, these films offer you everything you could ever ask for and more, so definitely make sure to check them out in your spare time.